You may not have heard this one for a while, but it's still true: "Garbage in, garbage out." 
This is particularly the case with Electronic Data Interchange ( EDI ) implementation, which remains fundamental to effectively running almost any business. And it's even more true today with the advent of the Cloud and multi-enterprise ecosystems your company is now de facto a part of. 
What is Electronic Data Interchange Implementation?
Electronic Data Interchange (EDI) implementation refers to the process by which an EDI solution or service is implemented or deployed, to make a business capable of sending and receiving EDI transmissions with its trading partners.
In addition, EDI implementation can also refer to individual partner relationships, specifically implementing EDI or becoming EDI-compliant with that trading partner.  At a trading partner level, numerous testing, vetting, and accessing steps must be completed.
For example, Walmart has a free EDI implementation guide that details all the steps a prospective supplier must take to become EDI compliant. Those directions include, but are not limited to:
1. Obtain access to Retail Link - an internet-based tool created by Walmart, which allows suppliers to access point-of-sale data and other important information 
2. Complete AS2 Testing – A trading partner must successfully send and received at least one file with Walmart
3. EDI Data Testing – the supplier must be able to send all EDI transactions within the basic EDI document set
After successful completion of all elements of Walmart's EDI implementation guide, a given supplier would have fully implemented EDI with the retail giant. But as you can see, there are a lot of hoops to jump through for an EDI implementation. 
Clearly, implementing an EDI solution internally and with all of your trading partners presents challenges. Oftentimes, businesses will drastically underestimate the time and expense required for an EDI implementation. However, it's how you handle these challenges that can be the difference between being open for business and not being able to trade with your business partners. 
Here are some of the most common EDI issues and implementation challenges we see:
Common EDI Implementation Challenges
•  Integration Complexity
Most EDI providers are proficient at connecting internal applications and systems.  However, integration complexity increases when modern-era B2B eCommerce enters the picture and you need to, say, ensure a seamless business process-oriented solution connecting your front-end Ordering systems with back-end systems like your ERP, WMS or TMS. As supply chains grow and digital ecosystems expand, your company will also need EDI (and API) solutions that face externally, to accommodate the changing requirements of any business partner.  
•  No Foundation for Scalability
Nimble companies can turn on a time. From an EDI implementation perspective, this often translates into your supply chain having the ability to EDI onboard new trading partners quickly by accommodating all of the accepted standards (e.g. EDIFACT, ANSI X12, among others) and EDI transmission protocols such as FTP, SFTP, HTTP, OFTP, AS2, etc.  Getting it fundamentally right though is one of the most common EDI challenges.
•  Data Security
Data security, especially these days, is a highly sensitive area. With EDI implementations, you and your business partners routinely share valuable, often confidential data.  So your approach to security issues with EDI must also address data and information security – for you, your partners, your customers, and their customers' sake. Appropriately handling, encrypting, and storing all parties' data is critical. 
•  Errors and Exceptions
One of the main benefits of system automation is reducing data errors caused by relying too heavily on manual processes. Having an EDI system that detects input errors, duplications, or other inconsistencies , in say purchase orders or invoices, and flags them for resolution, will help you save time – and money.  
•  Lack of Choice
There are literally hundreds of EDI software providers in the market. Choosing the vendor that's right for your business amounts to a critical strategic decision that should involve all the parties across your organization who stand to benefit. Because selecting the wrong partner can actually cause more headaches by worsening the very EDI implementation problems you're trying to solve.
If you can't digitally transact business accurately and in real-time with customers, partners, shippers, and others – i.e., if you're experiencing any troublesome EDI implementation issues -- you're putting your entire business at risk.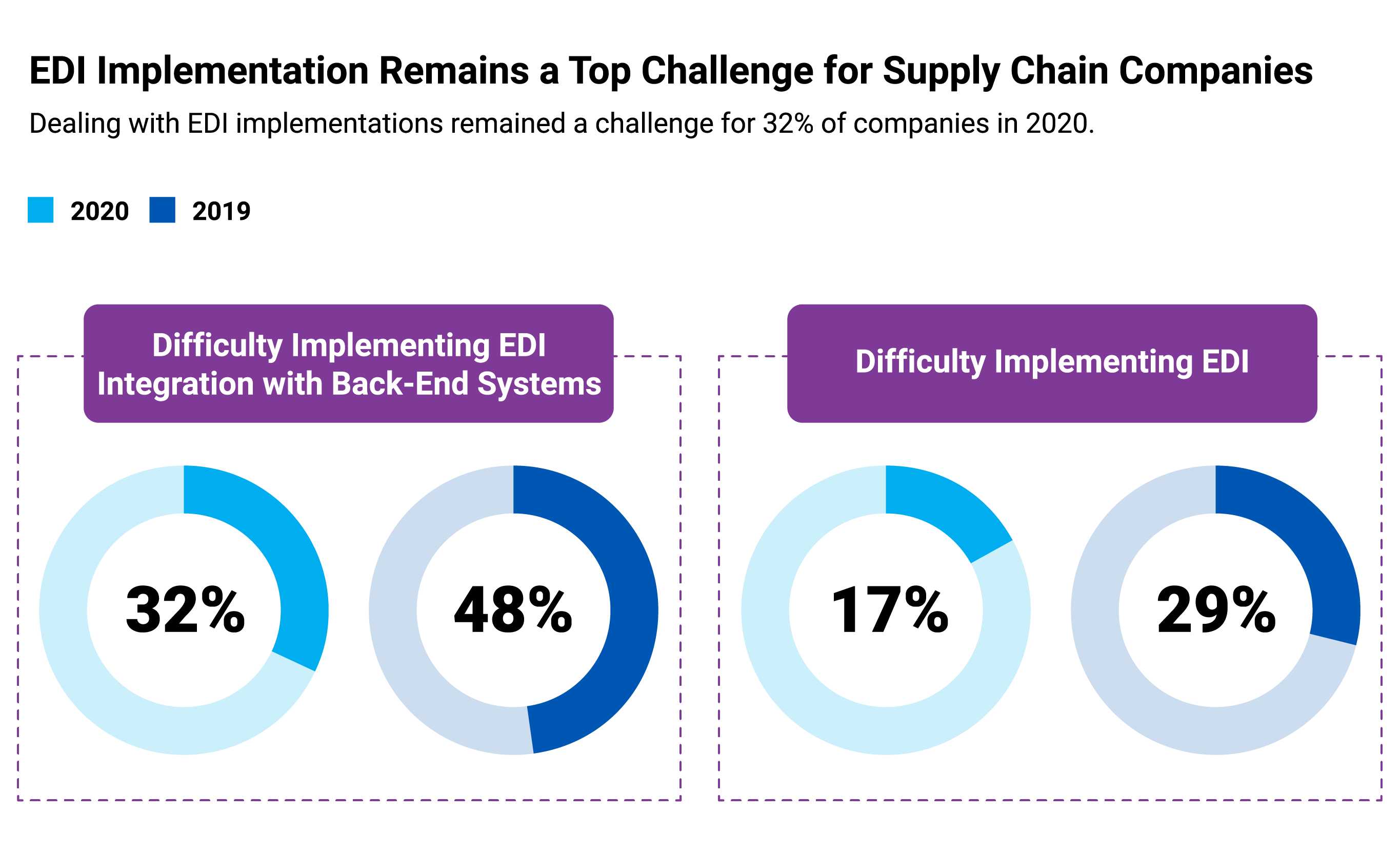 It's time to think bigger
Since the onset of COVID, indeed well before the pandemic according to McKinsey , eCommerce penetration has been spiking as digital transformation initiatives force change across industries. Manufacturers are going Direct to Consumer. Warehousing is becoming more localized to support same-day delivery. Ecommerce sales and omnichannel fulfillment are upending traditional Retail. Reverse logistics is no longer a "nice to have," it's expected. 
Beyond these specific sectors, there's also a wave of technology trends impacting business in general. Think IoT, AI/ML, GPS, sensor technology, data security, and the like. 
Add it all up and the impact is staggering: We're not merely seeing exponential increases in transaction velocity, but information visibility itself is becoming foundational to any trust-based B2B relationships. And this is why overcoming EDI implementation challenges is so critically important. 
Given all these trends, virtually every company that now exists competes in an electronically connected ecosystem -- and it is today's digital supply chains that govern it.  
Simply put, if your EDI supply chain doesn't have the agility and visibility your customers, partners, and suppliers expect, your B2B integration is broken, and you will lose business. 
These days, business productivity and the brand experience your company delivers to stakeholders are honestly only as good as your EDI implementation.  So it's critical to strategically understand and tactically tackle all of your EDI issues head-on, not just to solve immediate concerns, but to position your business for long-term success. 
Want to Upgrade Your EDI? Take the Assessment to See What You Need
Steps to Overcoming EDI Implementation Challenges
Each company's situation is different, but once you've admitted that your B2B integration is broken, and you've got specific EDI implementation challenges that your company would benefit from resolving, it's time to start thinking strategically about what you need your EDI solution to achieve.  But where to begin?  
The first step is to make sure you understand your challenge from a BUSINESS perspective. To do so, prioritize your EDI implementation initiative by discussing questions like these: 
- What does our customer/partner expect? 
- What kind of experience do we aim to deliver?
- What are our core end-to-end revenue processes (think Order to Cash, Procure to Pay, Load Tender to Invoice), and where are the EDI integration weak spots?
- What is keeping our supply chain from being as adaptable and agile as possible?
With some agreement on the business aspects, then you can more confidently address the tactical challenges, such as: 
Understand Trading Partner Requirements
Based on a 2021 report , about half of the companies surveyed felt that onboarding new supply chain partners should take 2-7 days. Seventeen percent felt onboarding should be completed in one day or less, while slightly under one-third (29%) thought one week to one month was okay.
That's all well and good, but what matters is what the trading partner expects of you. Every business relationship is unique. So from an EDI implementation perspective, meeting just the most commonly accepted EDI standards may not always suffice. You need a complete and flexible EDI mapping solution that lets you say "yes we can" to any EDI implementation scenario your growing business encounters. 
Look for a platform that in addition to standard B2B/EDI integrations can also handle application integration use cases, file-based integration, even embedded integration. Having such flexibility will enable you to connect any existing trading partner or application or expand your network – without business disruption.   
Select EDI standards
In 1979, the American National Standards Institute (ANSI) chartered the Accredited Standards Committee (ASC) X12 to develop uniform standards for Electronic Data Interchange Implementation (EDI).  X12 develops and maintains EDI standards and XML schemas which drive business processes globally. 
Depending on what your business needs to accomplish, there's a plethora of standardized document types to consider: For ordering, materials handling, manufacturing, warehousing, finance, government, taxation, quality control, and much more . 
Given the large number of integration points that exist in even a relatively simple supply chain with a small number of customer/partner relationships, every integration point is important to your business, so it's vital to examine the entire end-to-end revenue-generation process to ensure you're on the right path – and implementing an EDI solution you can grow with.
Plan for Scalability
Virtually every supply chain-dependent business has an immediate opportunity to capitalize on today's eCommerce explosion.  Companies of all sizes – from quickly evolving startups to well-established firms – are re-evaluating their IT systems and making the investment to automate their API-based or EDI business processes, priming them for rapid growth and future expansion with a solid foundation for hyper-scalability that they can rely on.
Given the drastic changes of 2020, it's no surprise that 96% of companies stated in a recent market survey that they plan to prioritize cloud migration and digital transformation in 2021.
When the pandemic hit, it shined a spotlight on the importance of modern B2B cloud integration, showing how outdated integration capabilities can lead to compressed margins and a reduced bottom line. Effective business process automation and integration are now understood as vital to sustaining revenue, growing through additive sales channels, or for some, merely surviving. 
Simply put, firms today can either capitalize on eCommerce and thrive or not move fast enough and lose ground to their more digitally savvy competitors. 
Choose the right EDI platform
It's really a once-in-a-business-lifetime opportunity, where no half measures will do.  To completely solve the problem, and shape an action plan for implementing EDI, when evaluating your options, look for a single-platform, cloud-based approach to integration that simultaneously enables:
∙ API + EDI + file-based integration with real-time end-to-end visibility
∙ Back-office systems integration – i.e., connecting your WMS, eCommerce, TMS, ERP , CRM, etc.
∙ Automation, transformation, orchestration of data and business processes
∙ Persona-based insights, meaning the same information can be made meaningful for any user, whether it's your finance people, supply chain operations, digital commerce, IT, customer support – whomever – so they can make real-time business decisions based on real-time insights. 
EDI Implementation Guide
From an outcomes-based, value-creation standpoint, approaching your EDI implementation issues from a strategic, value-creation perspective first will help you focus your available resources on gaining the supply chain agility you need to continually achieve what's most important to your business.  So study how money flows through your systems and processes. Figure out how you can deliver the best possible customer/partner experience. And make sure you're in a position of confidence and control with whatever technology platform you choose. 
The im电竞体育 Integration Cloud platform is intrinsically built around giving you choice.  You can opt for an entirely self-service approach, a 100 percent managed services deployment, or a blend of the two tailored to help you achieve the business outcomes you deem important for business success.  
im电竞体育 also gives you the integration visibility to make real-time decisions -- about inventory status, manufacturing slowdowns, supply shortages (and whether you need to onboard a new/different trading partner), logistics & transportation/delivery schedules , pricing changes, and much more.  It's a modern, cloud-based EDI integration platform specifically designed for today's B2B business. 
Here are a few more reasons im电竞体育 is different.  
First, we put API, EDI, and file-based integration technology on the same platform. We've enabled true end-to-end, B2B integration all the way into your back-office systems. 
Next, we eliminated inefficiencies and key-person dependencies by automating manual processes, orchestrating business processes, and supporting any-to-any data transformations.
Lastly, we empowered both business and technical users with real-time, end-to-end integration visibility for any transaction and any trading partner – enabling your entire organization to have powerful insights that drive better business decisions. 
What business outcomes will im电竞体育 Integration Cloud deliver for you? 
∙ Cost savings, lower TCO
∙ Improved SLAs
∙ Faster order processing
∙ Happier customers
∙ Fewer lost orders
∙ Processing more orders
∙ Reducing violations
∙ … and more
im电竞体育 Integration Cloud brings you into the new world where the best B2B integration capabilities help you thrive. So toss out the garbage of the old way, and think bigger with the new way – a single-platform solution that holds everything together, as explained in this short video .